John on October 18, 2009 at 10:13 am
Since my parents divorced when I was three, I spent weekdays with my grandparents while my mom was at work. My grandfather owned a car dealership in Richmond, VA but lived in a big house in Washington DC, right near Silver Spring, MD. He spent a lot of time in the car.
Grandad, as I called him – though it sometimes became just dad, was a big presence in my life. Maybe it was the fact that he was the boss at his dealership. I just remember people showed him a lot of respect and, since I was with him, well…I got away with murder.
There was an occasion, I was four or five, when a man walked into the dealership and I attempted to sell him one of the cars on the showroom floor. Turned out he was only there to pick up his car from the service department. No sale.
People thought it was funny, and I guess it was, but no one was going to complain about the kid annoying people in the showroom. I was his kid. And if, on occasion, I would throw one of those big Styrofoam airplanes around banging it into the new cars and occasionally the salespeople — that was okay too. I don't know that I fully understood the dynamic when I was five, but I certainly got used to it.
One of the things I remember most clearly from that time is Grandad's singing voice. He had a very good voice, full and steady, perfect for a crooner. I don't think he ever used it in public, though he easily could have. When we were driving somewhere (we made a daily run to Sears to check out the tools/toy aisle) or even just at home, he sang a lot.
There were six or eight hits which would always lead him to burst into song the moment they came on the radio. Chances Are. Please Release Me. Mack the Knife. And one of his favorites, Spanish Eyes by Al Martino.
Al Martino died this week about five years after my grandfather passed away. Turns out he lived in Beverly Hills, just up the road from me. Spanish Eyes was one of many hits (Volare was another big one). He was also known for his role in the Godfather playing, what else, a crooner.
Here's video of Al from a German TV show. This was first broadcast in 1967, which is about a year after the song hit the charts and also the year I was born. They really don't make them like this anymore. He just gets out there and does it. No quick cuts. No lip-syncing. Just a performer who pulls it off and then smiles at you, as if to say, damn that was good wasn't it?
We'll miss you, Al. We still have the songs, which are terrific. And in my case, they bring back a lot of good memories. In fact, when I listen to this I hear a duet between a couple of great crooners now gone.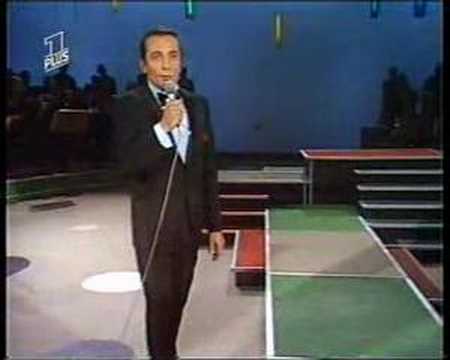 Category: Music |