John on March 1, 2007 at 1:02 am
This is the completely pointless post in which I discuss every famous person I've ever met, almost met and, in some cases, ones my friends have met. Why write about this? Because it's there.
For starters, I will not be mentioning all the bands I've seen in concert. That's another post for another day. However, if I did actually meet the band…that counts. Okay, here goes, starting with bands, since I'm already talking about them:
Michael Stipe – It's 1994 and I'm at a show at the 9:30 Club in DC. The band was Lush (who I still love though they no longer exist). The guy in front of me was bobbing his head to the opening band and I kept thinking…Where have I seen that move? I looked at a guy next to me and, as if reading my mind, he said "It's F'ing Stipe, man."
A minute later the opening band stops, someone next to me, who obviously knew him, says hello and he turns around and suddenly, me, Michael Stipe and two other guys are in a little circle talking. I had seen this guy in concert three times in four years. Had every album. Leanred to play all their songs — and I do mean all — on guitar. I was freaking out. It must have showed, because he shook my hand and then put his finger to his lips as if to say "Don't let anyone know I'm here, okay?"
Unfortunately, Mike was quite a bit too famous to stay a secret in a room full of music fans. Sometime during the break he left.
His politics and general later weirdness aside, Murmur is a masterpiece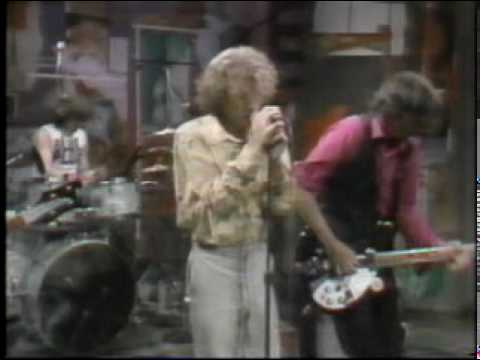 Emma Watson and Miki Berenyi – No one remembers Lush these days, but there was a moment there when Miki Berenyi — with her bright red hair — was the it girl of alternative music. After meeting Stipe, I waited near the basement steps for 45 minutes until the guy working there took pity and let me join the after-party. I got the Miki and Emma's autograph on my ticket. Again, I think I was slightly awed. I still love the music (and Emma's current band Sing-Sing is pretty good too). Here's one of my favorites, "De-Luxe" off the Gala album.
David Schelzel and Bobby Mittan – Guitarist/singer/songwriter and bassist for the band The Ocean Blue. I went to these guy's show in DC when they opened for the Psychedlic Furs. I had been listening to their album and I kept thinking "These guys are Christians." In fact, I sent them a letter a couple weeks before the show asking them what the lyrics meant.
So I'm standing there, about a half hour early, and this guy comes up to me and says "Hey, do you like this band?" I tell him yeah, I sent them a letter, etc. He says "You want to meet them?" Weird, right? It got weirder. He takes me to meet them backstage. I introduce myself and they get this weird look. One of the guys says "You're John Sexton? We were just reading your letter." And he holds it up to show me. Anyway, we talk about the band and faith (yeah, 3 of the 4 of them were believers). Really cool and I still like their songs, especially "I've Sung One Too Many Songs For a Crowd That Doesn't Want to Hear" and "The Planetarium Scene" off the Cerulean album. I have the CD that Bobby autographed sitting behind me on a shelf (he's the one with the really cool hair).
Here's another great song off their first album – Between Something and Nothing. It's about Jesus:
Mark Heard – One of the great Christian songwriters. I never met him face to face, but back when I had a band in college I wrote to him. He listened to our tape and actually offered to produce and album for us. Our manager, Jim, went to meet with him at the Cornerstone festival with a copy of our latest demo. The plan was to iron out the final details after his performance.
Only, it never happened that way…After the show, an ambulance arrived and took Mark to the hospital. He died a few hours later. I still have the letters he sent me. I still love his songs, especially "Mercy of the Flame" and "Lonely Road" off of Dry Bones Dance.
Added: Ian MacKay – Frontman for Fugazi and Minor threat. In college and high school I was into punk a bit. Minor Threat was my favorite punk band and Ian MacKaye, who grew up in DC near where I lived, was a semi-hero for a while.
Sometime during college my band agreed to play this weird fundraiser show held in a Unitarian church. Anyway, Ian Mackay was there and actually watched us perform. After our set the organizer asked if I wanted to meet him. And here's where I did something stupid. I was such a fan that I refused to meet him. It was literally an "I'm not worthy!" moment. I just couldn't do it. Didn't know what to say to him. What an idiot my 22 year old self was.
Elvis – Okay, this one is a real stretch, but it's such a cool story. I never met the king, but my college girlfriend did. When she was not quite three years old, her parent went on vacation to Hawaii. This was during Elvis' Blue Hawaii phase. Anyway, they went to a show and Elvis spotted this cute little blonde girl and pulled her out of the audience, sat her on his lap and sang "Tiny Bubbles" to her.
How many women can say they sat on Elvis' lap and, well, never mind…bad example.
Now I'm going to make the smooth transition from singers to TV movie stars by playing the Hoff card!
David Hasselhoff – When I was 13 my family traveled from Virgina to Southern California to go to Disneyland (among other places). One of the other places we went was to Universal Studios. And like every tourist, we took the tram ride that shuttles you through the Universal backlot.
Well, lucky us, this was during the Night Rider days and as our tram went by one of the stages, David Hasselhoff lept onto the tram and grabbed the microphone. All I remember is he did the intro to his show…
"Michael Knight a young man on a crusade to champion the cause of the innocent, the powerless, blah, blah, blah."
http://video.google.com/videoplay?docid=-8733000285450520008
The ladies on the tram went berzerk. I can honestly say I've never seen a man wear pants that tight.
Don Knotts aka Barney Fife – Andy Griffith is my all time favorite sitcom. I met Don about two years before his death at a poster show where he was signing autographs. He autographed a picture of himself as Barney Fife with the words "Nip It." I wrote a kind of obituary on the event of Don's death which you can find here.
Russell Johnson aka The Professor – Similar situation to the one above (as are the next several). He was also the star of two of my favorite 50′s sci-fi films, This Island, Earth and It Came from Outer Space.
Robert Wise – The director of Star Trek the Motion Picture, The Day the Earth Stood Still and The Sound of Music. I met him at an autograph signing but didn't really get to say much to him.
Haruo Nakajima – Who? Godzilla, that's who. I went to a show for Godzilla fans in Hollywood (where else?) and he was there. He was actually leaving to go take a nap in his room when I stopped him and asked him to autograph a photo. He was very old, but still wiry and he bowed to me in thanks as he got on the elevator. Didn't speak a work of English, but I didn't care.
Ray Harryhausen – The master of stop-motion animation who created Clash of the Titans, The 7th Voyage of Sinbad and a bunch of other great films. I've actually met Ray three times. Twice were very brief and impersonal, but the first time I was introduced to him at a film festival by one of his friends and he was very kind and gracious.
Charleton Heston – Another autograph signing at a show. This is about four years ago, just before he announced he had Alzheimers. Let me just say that at 70+ he was still one of the manliest men I've ever met. He autographed an original Ben Hur lobby card I had with me.
Carrie Fisher – My entire teenage life I was in love with Princess Leia. And may I say, I wasn't a particular fan of the steel bikini from Return of the Jedi. No, it was the white flight suit from the Empire Strikes Back that got me. So I finally got to shake her hand at an autograph signing at a show I went to a couple years ago. She seemed…uh, how can I put this delicately…well medicated.
I had her sign a photo of herself as Princess Leia…in the white flight suit. I couldn't help myself.
Andy Serkis – The year The Two Towers came out, I met Andy at an autograph signing. He was there with his beautiful wife and, at my suggestion, did an impromtu Gollum impersonation with my wedding ring as a prop. Nice guy. Deserved an Oscar nod for Gollum. I suspect he'll get one eventually, which will make my picture with him even cooler.
Steven Spielberg – Again, I have to stretch a bit here, but it's Spielberg. My grandmother lives in Bethesda, MD. A few years ago she was at a grocery store, walking down the aisle, doing her thing. She looks up and there's Spielberg shopping…in Bethesda. So at first she thinks she's had a stroke or something because this can't be. Then he catches her eye, smiles and puts his finger up to his lips (just like Stipe!) as if to say "Don't say anything." She found out later that Spielberg's sister apparently lives somewhere in the area and that's who he was shopping with.
Howard Chaykin – Artist and illustrator. He did the very first Star Wars poster (you can see it here) along with a very cool graphic novel adaptation of my favorite sci-fi novel. Anyway, I'm at Comic-Con with a friend who is a screenwriter and who is looking to meet up with a producer he knows. After multiple phone calls back and forth, he finally locates the guy. When he comes walking up to us, there's another guy with him and he casually says "This is Howard Chaykin." Well, I happen to have a piece of his art hanging in my house so I interrupt. "Are you Howard Chaykin, the artist?" because though I know his work I've never seen his face. He says yes and I start telling him about all the stuff I own that he's created and he's genuinely pleased.
Then we start talking about this sci-fi novel he did the art for and how much we both love the book and how we both have every edition. We start quoting lines from the novel and our two friends are looking at us like we're Raellians or something. It was really a great unexpected moment.
Okay, I'm sure I've forgotten a few, but for the moment I'm tired. I'll do a part 2 or an update later. And when I find the picture of me and Andy Serkis, I'll post it.
Category: For Fun |