Morgen on September 29, 2009 at 11:43 am
The Senate Finance Committee is in the midst of the "markup" process to finalize their version of the health reform bill. The Democrats need to pass a bill out of this committee in order to bring a bill to a full floor vote in the Senate. It's been a contentious process all week since the initial bill proposed by Senate Finance Chair Max Baucus is much more moderate than most of the other Democrats on the committee would like. And so they have been offering up amendments to the bill in order to mold it more to their liking.
Which brings us to today's hearing where the committee is debating an amendment from Sen. Rockefeller (D-WV) to add the public option to the bill since this was not included in the original "chairman's mark". I don't believe this amendment is expected to pass since there are at least a couple of moderate Democrats on the committee who oppose the public option (as well as all of the Republicans). But I got a particular thrill from hearing Senator Grassley (R-IA) quote from a couple of familiar video clips in his statement against the public option. Watch: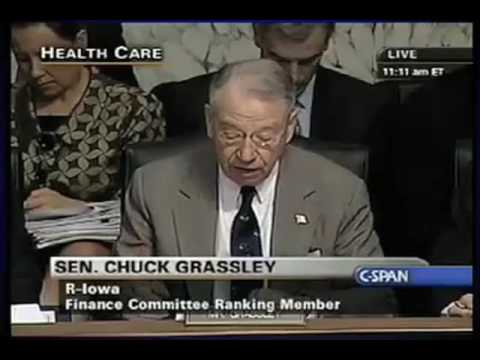 For those of you who may be new readers, the statements from Rep. Jan Schakowsky, Rep. Barney Frank, and Ezra Klein from the Washington Post were all discovered and posted first right here on Verum Serum. (And I really wish Grassley had called out his colleague Sen. Feingold on this as well.) If you haven't seen any or all of these clips, I encourage you to click through the preceding links and watch them since Sen. Grassley did not do them full justice. For our regular readers, forgive us for yet another self-congratulatory mention of this. It's just really gratifying to see something which took many, many hours of research continue to have an impact on this debate at a national level.
Lastly, I have to give a special hat-tip to Ezra Klein who posted this morning about Grassley's mention of his statement. It's a shame that Klein is still trying to spin his way around his own admission that the public option was conceived by Democrats as a "sneaky strategy" to move the country towards single-payer. And don't even get me started on this whole "out of context" meme. Klein is right that some more honest liberals have argued that consumer choice could ultimately lead to the public option being the only option. To his credit, Howard Dean has consistently acknowledged this – as did John Edwards during the Democratic primary campaign.
But this has NOT been Ezra Klein's argument, and more importantly, it not been the President's either. The President has unequivocally denied that the public option was in any way intended to lead to single payer. To be blunt, this is a lie. I have said this before, but if you base your initial policy case around a strategy of deceit I don't see why you should be trusted with any of your arguments. And with support for ObamaCare down to 41%, most Americans would seem to agree.
Category: About This Blog, Health & Education, Politics |