John on July 10, 2009 at 9:39 am
Not familiar with booty-gate? Let's go to the tape: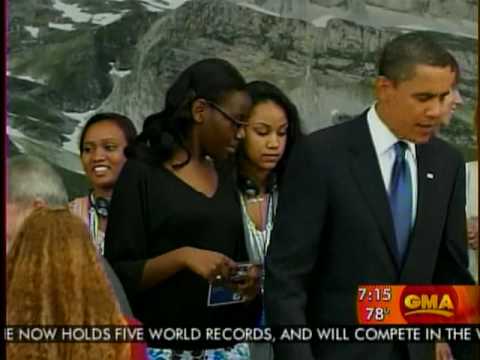 Did he ogle? I'm going to go with yes though with a lot more class than Sarkozy who is gawking at her like aqualung.
I've compiled a list of the ten little known insta-facts about this incident:
10) Obama gave the young lady an ipod with a collection of his speeches plus Rio by Duran Duran and Baby Got Back by Sir Mix-a-lot.
9) Conspiracy theorists who proposed that the President had been replaced by a lifelike robot just admitted it was a silly idea.
8) President Sarkozy's approval numbers just shot up in France.
7) Somewhere Monica Lewinsky is shopping for a purple dress and daydreaming.
6) The MSM thinks this is the first and only gaffe Obama has committed since taking office.
5) Mark Sanford saw this and thought briefly about resigning.
4) David Letterman saw this and wrote a new joke about Sarah Palin's kids.
3) Michelle Obama saw this and exclaimed "No he didn't!" Then she clicked onto zales.com and began browsing diamond stud earrings.
2) Bill Clinton saw this on GMA, bit his lower lip and exclaimed "That is NOYCE!" Hillary, who is home recovering from a broken elbow, shouted up the stairs "I heard that!"
1) David Axelrod briefly wondered how Vera Baker is doing these days.