Morgen on June 25, 2009 at 11:57 pm
Ezra Klein is a well-respected, liberal blogger on economic and public policy issues for the Washington Post. In fact, I think it's accurate to say that he is a rising liberal star, a prime example of how traditional media institutions are transitioning to the realities of the new media era. And on the subject of healthcare policy and politics, in particular, his range and depth of knowledge is almost unrivaled within the journalistic world. In recent weeks, he has made repeat appearances on MSNBC to discuss the prospects for health reform, and he is a frequent speaker and panelist at healthcare focused conferences around the country. (And by the way, he also happens to be the founder of the infamous "Journolist".)
The point is whether you agree with his liberal perspective or not, Klein's opinions are typically well-informed and he usually backs up his arguments with actual data (and "lots of it", as he says). Many people, myself included, follow his blog and Twitter feed closely for up-to-the-minute information on the back room dealings in Congress related to healthcare reform.
Which makes it all that much more remarkable that a liberal figure of such prominence in the healthcare debate could be caught on tape unambiguously admitting what we and other conservatives have been saying for months: that the public plan is the liberals' backdoor strategy for moving towards a single-payer system. In fact, he goes one better and even lays out the backstory for why the Democrats deemed this strategy necessary. He's speaking at the "NetRoots Nation" conference last July – WATCH: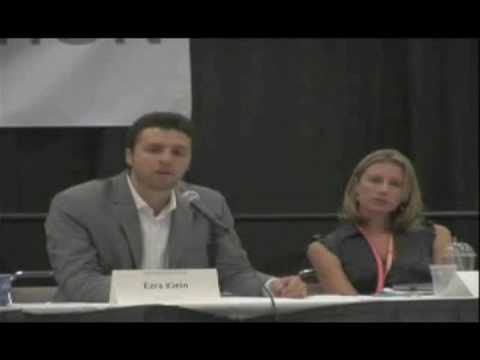 (Sorry for the video quality – the problem was with the source).
This was actually not the first time that Klein admitted this. In May 2008 he wrote an article for The American Prospect where he called the Public Plan strategy – "Single Payer By Stealth". In point of fact, Klein was a close follower of Jacob Hacker's "Health Care for America" plan even before Obama adopted it as his healthcare platform. So again, the man knows what he is talking about.
And I should add that it really is not that remarkable for Klein to have been so forthright about this. I actually admire the fact that he tends to speak his mind, and is generally an open and honest advocate for the liberal policy objectives he favors. This is more than I can say for the Administration and the Public Plan advocates in Congress.
The mainstream media has continued to push the President's bogus line that Republicans, insurance companies, etc. are the ones dishonestly claiming that the public plan is intended to ultimately put private insurers out of business. We now have documented evidence of multiple Democratic members of Congress admitting this (Sen. Feingold, Rep. Schakowsky). We have the original architect of the public plan strategy, Jacob Hacker, admitting this. And now we have Journolist founder, and respected Washington Post blogger, Ezra Klein caught on tape admitting this. These are prominent, liberal proponents of the President's healthcare plan – not conservatives, not insurance company defenders!
Here is the million dollar (or rather, $2 trillion) question at this point: when is anyone in the mainstream media going to wake up and pursue this story? This debate is far too important for the future of our country to let the Administration's claims go unchallenged. This may be the story opportunity of a lifetime for a brave journalist willing to seize it.
Category: Health & Education, Politics |