John on June 14, 2009 at 1:39 pm
It's late in Iran now, but I'm going to use this post to update throughout today and possibly tomorrow.
1:30PM: Iranian authorities closed down Al Arabiya's Tehran bureau Sunday afternoon…
1:45 PM Ahmadinejad compares the rioting in the streets to excitement after a soccer match…
1:55 PM Recent photo:
2:05 PM Friend of fascists Jimmy Carter is "sure" that Ahmadinejad will "listen to" the protesters.
2:20 PM Speaking of Carter, the Wall Street Journal has an editorial up saying Obama is naive and may be the return of Carter.
2:30 PM Speaking of useful idiots, Time's Joe Klein who is currently in Iran covering the election wrote about a "rock-em, sock-em presidential debate" just over a week ago. Klein's goal with this was clearly to present Iran as a modern Democracy where debates take place just like here at home. In fact, Joe goes on to compare Ahmadinejad to Bush and Mousavi to John Kerry. Strangely, Klein hasn't had much to say since the results were announced.
3:30 PM Mousavi has asked his supporters to protest tomorrow starting at 4PM.
3:40 PM CNN video of protesters at Tehran Univ.
3:45 PM Romney calls on Obama to speak up.
3:55 PM The Blog of the National Iranian American Council disagrees with Romney, says Obama is doing the right thing by laying low. Any strong statements from the US could allow Ahmadinejad to portray protests as foreign influenced.
4:00 PM Video of people shouting "Allahu Ackbar" from their rooftops. I'm reading that this is exactly how it was in 1979 during the revolution: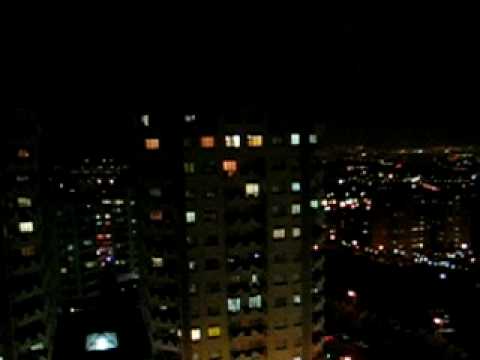 4:05 PM Video of Mousavi's wife speaking to reporters. Can't understand a word of it unfortunately.
4:10 PM BBC report on the election with people chanting "We want freedom!" in the streets: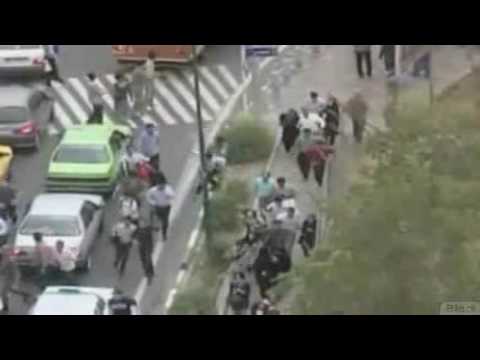 4:35 PM Side note of interest to conservative bloggers…Charles Johnson has said little about what's happening in Iran, but does find space to highlight a BBC report on a pro-Ahmadinejad march in Tehran. Here's his earlier post which simply declares Mousavi the "loser." So much for context.
4:45 PM Another good Flickr feed of photos here.
9:00 PM Wondering what happens to protesters caught by the police? A Canadian freelance jounalist got to find out:
I was walking by a checkpoint and an officer grabbed me and forced me onto a motorcycle. As soon as we stopped, I was grabbed from the bike by another officer and slapped me across the head. Seven officers ran up to join in the slapping, and one punched me in the head. A large officer, about 6 foot 4 and dressed in camouflage, grabbed me by the neck, pinching my jugular but not my wind pipe. His leather gloves cut through my skin and I was pinned against a van, my arm bent high behind my back…

When we stopped, an officer grabbed me, pinned my arm behind my back and led me into the bowels of the Interior Ministry headquarters – where so many Iranian dissidents "disappear."

We went down several flights of dark concrete stairs to a large basement room, where I was grabbed by the shirt and pinned against the wall, as more questions were shouted at me in Farsi – and as I caught glimpses of the others being treated far worse.
He made it out once they realized he was Canadian. The others he saw being beaten were not so lucky.
11:00 PM Former President Khatami arrested along with dozens of other opposition leaders.
11:05 PM There's a twitter feed covering all of this. Currently updates about twice a second. Just saw a report that people in Tehran are chanting "Obama get our votes back." Maybe now is the time for that open hand, but to the people of Iran, not the President.
11:15 PM A message from Mousavi:
I am under extreme pressure to accept the results of the sham election. They have cut mee off from any communication with people and am under surveillance. I ask the people to stay in the streets but avoid violence.
12:15 AM A small act of protest: Iranian Election for sale on ebay.
Category: Foreign Affairs |