Morgen on April 20, 2009 at 2:04 pm
While President Obama was glad-handing Hugo Chavez and other communist dictators at the Summit of the Americas, State-run Venezuelan television was providing coverage of the Obama's stop-over in Mexico. Apparently, this newscaster is the Walter Cronkite of Venezuela and Dossier is the most-watched national news program. The broadcast is in Spanish but I think you'll get the gist – just watch: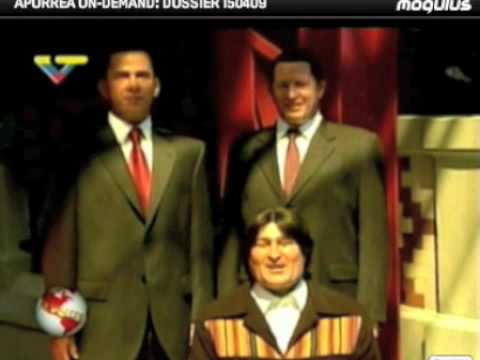 You couldn't dream up a better caricature of a propaganda-spewing, communist newscaster …and in case it wasn't clear, that's Hugo Chavez and Evo Morales, the socialist dictator of Bolivia, posed with Obama at the Wax Museum in Mexico. Bill Ayers would be proud!
Exit questions:
1. If this portrayal of our President and First Lady is indicative of the type of "mutual respect" sought by Chavez, can we go back to a policy of marginalizing him as a freedom-suppressing blowhard?
2. The Mexicans apparently recognize a socialist when they see one, don't they? [wink]
Category: Foreign Affairs, Politics |