Morgen on February 23, 2012 at 2:07 pm
Santorum is taking a lot of heat from the debate last night for how he defended his vote in favor of the No Child Left Behind act in 2001. Here's what Santorum said: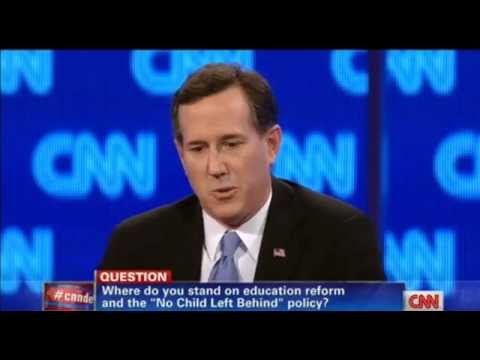 "I have to admit, I voted for that, it was against the principles I believed in, but you know, when you're part of the team, sometimes you take one for the team, for the leader, and I made a mistake…You know, politics is a team sports, folks, and sometimes you've got to rally together and do something, and in this case I thought testing and finding out how bad the problem was wasn't a bad idea."
But a review of Santorum's Senate web site from this era (via the Wayback Machine) demonstrates that he was hardly an unenthusiastic supporter of the bill. Here's a press release from Santorum's office shortly after President Bush outlined the proposal.
U. S. Senator Rick Santorum (R-PA), Chairman of the Senate Republican Conference, praised the President's education proposals today during several visits with students and teachers in schools across Pennsylvania.

"The President's plan invests more than $1.5 billion in education funding in Pennsylvania alone, an increase of more than $91 million over last year," said Santorum. "This additional funding, combined with rigorous accountability and increased flexibility, will ensure that no child is left behind in Pennsylvania."
And a column written by Santorum in support of the proposal.
America has reached a crossroads. We can no longer ignore the education crisis that sends more and more of our children out into the world without basic skills. And we can no longer afford the petty indulgence of partisan bickering.

On January 23rd, President George W. Bush unveiled the framework of his education reform proposal – "No Child Left Behind." I am very encouraged by the positive response from members of both parties. This openness sends a strong signal to American parents and schools that Washington is ready to enter into a partnership with them to make sure that all of our children will be given the opportunity to follow their own paths to the American dream.
And another press release upon passage of the bill in the Senate:
I applaud the President for his leadership in making our children's education a top national priority. While the education bill passed today by the Senate provides significant increases in education spending at the expense of many necessary reforms, it is a definite improvement over current education policy and begins to focus our educational priorities on what is in the best interest of our children.
Lo and behold, Santorum also included the passage of No Child Left Behind among his "record of accomplishments" when he ran for re-election in 2006, calling it "the most historic legislative initiative enhancing education to pass Congress in decades".
So which principle of his did it violate exactly?
Category: Politics |