John on February 21, 2012 at 10:50 pm
Thanks to commenter Alan for the tip to this story. A 67 year old man was killed Saturday by a 23 year old man with a history of mental illness. Police didn't respond to the initial call for help because it wasn't on the emergency line and they were waiting for the weekly anti-police march of the Occupiers:
Peter Cukor, 67, first called at about 8:45 p.m. Saturday on a non emergency line to report a suspicious person "hanging around" his property near Tilden Park…

Cukor's wife, Andrea, phoned 911 to report the assault 13 minutes after Cukor first called, said law enforcement sources, speaking on condition of anonymity because a police investigation is continuing. Several officers then arrived within four minutes and arrested DeWitt a short distance from the home at 9:22 p.m.

Cukor, a business management consultant and father of two grown sons, died at Highland Hospital in Oakland. His family has declined to comment…

One of the officers who responded after the 911 call, Jerome Cobert, had noticed Cukor's initial non-emergency call on his police-cruiser computer while driving on Shattuck Avenue, about two miles away, sources said. He volunteered to respond two to three minutes before the 911 call, the sources said.

However, a dispatcher reminded Cobert that police officials had decided to respond only to high-priority calls Saturday night because of an Occupy Oakland march that was headed up Telegraph Avenue toward UC Berkeley, sources said.
It's impossible to say if the additional 2-3 minutes would have saved Peter Cukor's life, but it's very possible it could have. We're talking about 13 minutes in all and the murder seems to have happened later in that time-frame.
What seems clear is that police were hampered from responding as they normally would have because a bunch of 20-something assholes looking for attention wanted to march through the streets vilifying the cops. In case you somehow missed it, here's what this same march has looked like in previous weeks: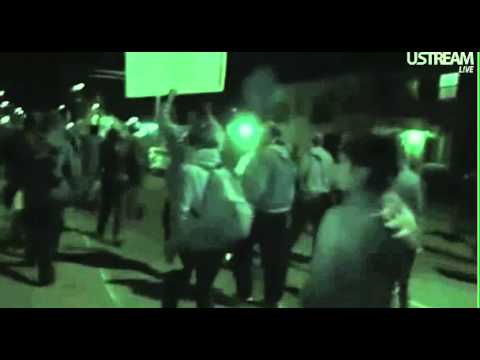 So who is the real villain here? The cops who would have risked their lives to save Peter Cukor or the people who tied up the city's resources so they could have their weekly tantrum in the streets?
Category: Uncategorized |