John on December 27, 2011 at 11:46 am
Turns out China is a tyranny where criticism of the government can result in a prison sentence:
A Chinese court has handed down a 10-year jail sentence to Chen Xi, the second dissident in four days to be convicted of inciting subversion through online essays…

The intermediate people's court in Guiyang, in south-west China's Guizhou region, tried Chen Xi, 57, on charges linked to more than 30 political essays he published online.

"The judge said this was a major crime that had a malign impact," his wife, Zhang Qunxuan, told Reuters by phone after the trial. The judge said Chen was a repeat offender who deserved a long sentence, she added.
The article goes on to say that the Chinese version of Twitter announced new rules on Christmas Day:
On Sunday Shanghai became the latest large city to order Chinese tweeters to register their real names when opening accounts, the Xinhua news agency reported.

Twitter is banned in China but lively debate, cynical jokes and criticisms of official corruption spread rapidly on home-grown services such as Sina Weibo. The decision applies to new users from Monday, and will eventually cover all users. The new real-name registration rules were first applied in Beijing on 16 December, then expanded to Guangzhou and Shenzhen.
My view is that the President has been awful with regard to China in general. He praises them routinely but rarely if ever mentions the significant downside of a socialist, planned economy in the same breath. Obama did however make a nod on this particular issue two years ago. He was asked specifically about Twitter usage in China: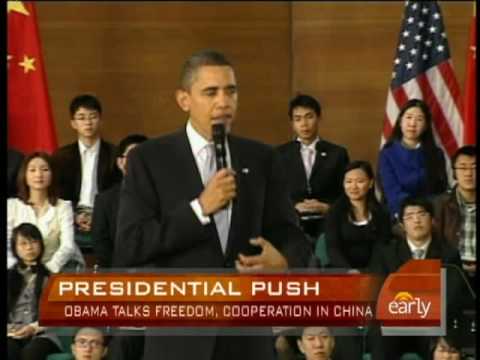 That's probably his single best moment on China actually. Pretty weak sauce IMO.
Category: Uncategorized |