John on November 8, 2011 at 2:18 pm
Police cleared the encampment in Riverside, CA Sunday. Here's how it got reported by the local NBC affiliate:
The accompanying story begins:
Police say the Occupy Riverside crowd became aggressive Sunday afternoon when protesters said they were asked to remove tents from the city's downtown mall.
Well, yes, they did become aggressive. But while both of these stories (video and text) relate the facts, neither gives you the color of what's really happening. I've got two clips below that show what actually happened when Riverside PD went to remove the tents. Warning: The language is NSFW: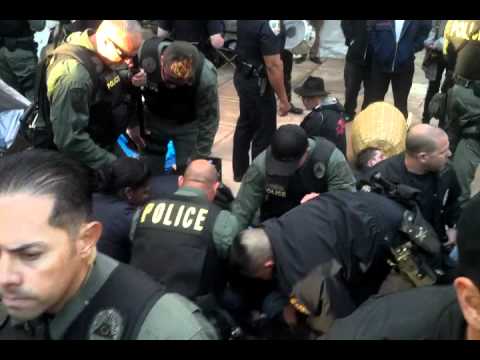 In this clip, in addition to cursing at the cops a demonstrator actually dares one officer to use his baton: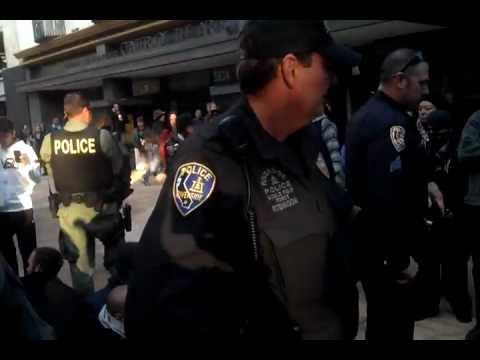 Things are even worse at the level of the national media. Contrast what you've just seen with this expert opinion from a story posted today by NPR:
George Edwards, a political science professor at Texas A&M University, says he thinks officials have shown a fair amount of tolerance toward protesters.

"When you had the civil rights movement, one of the things they wanted to do was precipitate violence. Not that they wanted to get their heads bashed in, but that they wanted to show the rest of the country the nature of the opposition," Edwards says. "I don't think, as far as I know, that this is a major goal of the occupiers — to precipitate violence against them. In that case, it's easier to be more tolerant of them."
How popular do you think Occupy would be if local stations would post or link those clips above instead of dumbing it down to "the Occupy Riverside crowd became aggressive?"
The media is still filtering out the worst of what's happening at the "peaceful" occupy camps. How much longer are they going to keep that up?
Category: Uncategorized |