Morgen on November 3, 2011 at 12:50 am
Update: Three clips that capture the vandalism and mayhem that happened during the day and after dark. In this first clip you get a street level view of what happened at Whole Foods (aerial view below). Some protesters were trying to keep things peaceful, even picking up a chair to ward off the violent ones. However when the same group broke windows at Wells Fargo you hear only cheers from the crowd:
As you'll see in this clip, by the evening the situation had reversed. Here a protester tries to put out a fire in the street and he is prevented from doing so by other occupiers:
Also, John E. notes that someone has scrawled 187 over the police logo. You can see it at 2:46 in the video above. 187 is slang for murder.
More video of what happened after dark:
[End Update]
For you night owls there is live coverage running on USTREAM right now.
Here is a taste of what went on earlier this evening: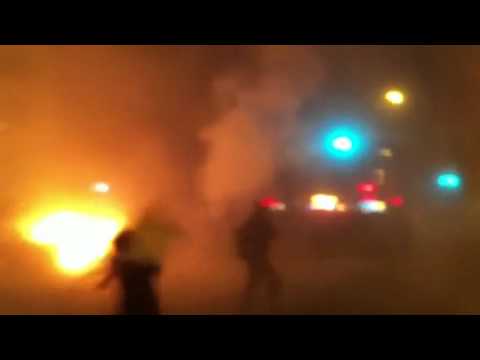 This is from earlier in the day, the part of the protest that nearly every paper has described as "mostly peaceful." This is a Whole Foods store. Notice at one point a guy does step up and try to get the anarchists to move along. They do. They move a few feet further on and trash the outdoor eating area:
View more videos at: http://nbcbayarea.com.
Ok, this is pretty intense. Although the quality is not very good. I captured this live from the USTREAM feed I linked above at around 1:15 am PDT. The cameraman is clearly on the side of the protesters…but he is fearless.
Is this really America?
Category: News |