John on October 26, 2011 at 1:05 am
Here's video as police arrive to evict Occupy Atlanta: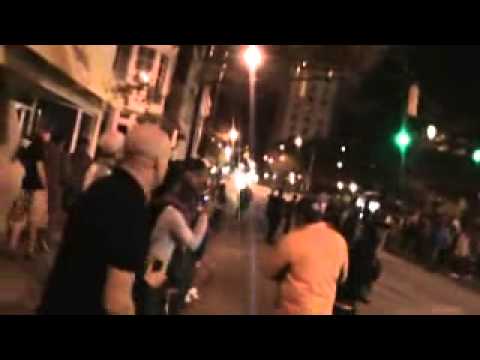 Here's a report on what happened next from UPI:
Atlanta police arrested more than 40 Occupy Wall Street activists in a downtown Atlanta park early Wednesday after they refused to vacate their encampment site…

Among the protesters arrested in the 6-acre Woodruff Park were Democratic state Sen. Vincent Fort of Atlanta and Joe Beasley, the southern regional director of the Rev. Jesse Jackson's Rainbow/PUSH Coalition, which pursues social justice, civil rights and political activism, the Journal-Constitution said.

Some protesters defying the revocation of a city order permitting them to stay in the park would not get up on their own and had to be dragged, the Journal-Constitution said. Most protesters went peacefully.
Not everyone was unhappy about the arrests. This guy turned the "people's mic" against the occupiers:
Category: Crime & the Law, Politics |