John on October 25, 2011 at 9:08 pm
After being removed from the park early this morning, Occupy Oakland protesters held a march this evening in which they swarmed through downtown streets. Police blocked off some streets and the situation became tense when arrests were made:
Here's video of the same scene (or a moment later) at street level. As you can see, protesters threw paint bombs and cursed at Oakland PD:
With a small group of cops surrounded, police from down the street rush forward to set up a perimeter. They fire off tear gas, forcing many of the protesters to leave: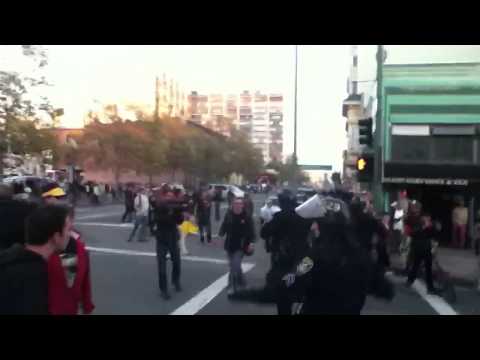 This is the same action as seen from above. This clip picks up right after the cops rush forward and fire tear gas. At the start of this you can see one of the cops at the bottom of the shot talking to the same woman in the brown sweater:
This looks like something coming out of Greece.
Update: Zombie says things have gotten worse after dark in Oakland. Here's a sample of the chaos starting about with the action I noted above and continuing into the night:
Category: Crime & the Law |