John on October 29, 2008 at 8:36 am
Given the circumstances, I say the headline is fair: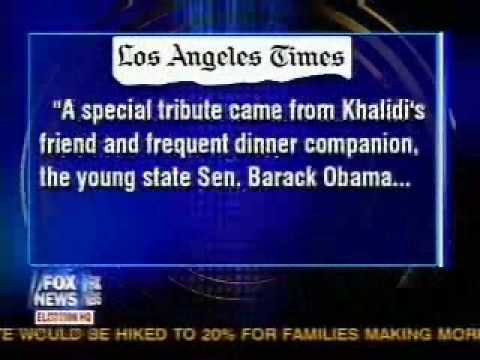 When did newspapers get in the business of not releasing information to the public?
Remember, this is the campaign that insinuated Sarah Palin was a supporter of "Nazi sympathizer" Pat Buchanan in a letter to a Miami newspaper. You think this tape of Obama praising a former PLO spokesman would impact the Jewish vote? Yeah, I think so too. That's why it will never be released before the election.
The fix is in.
Addendum: I just sent an e-mail to the LA Times. Instead of contacting the news desk I decided to have some fun. I sent this to the website/bugfix link:
I'm having a problem viewing the Times. When I bring it up in my browser I only get news favorable to Obama. Other news, such as video of his celebration of a former PLO spokesman, never appears.

Is this a glitch that can be fixed or should I be looking to upgrade to a new paper?
Update: A sizable reward is being offered for the tape. Apparently it's harder to leak anti-Obama info than national security secrets.
Update 2: Another HatTip to Ace. Someone who claims to have seen the tape (or portion of it) reveals a couple quotes that also explain why it isn't being released. I'd say this deserves a huge grain of salt at this point.
It's a shame we have to speculate about what our possible future President says in front of multiple reporters.
[HT: Gateway Pundit]
Category: MSM & Bias |