John on October 12, 2011 at 7:25 pm
Thrusday 10:00am: As expected, Markos never lets us down.
Update 8:00PM (Morgen): Oh, boy…it's a safe bet that these photos are going to be making the rounds in the media tomorrow. The shooter's car. (Credit: Long Beach Press-Telegram)
Update 7:30PM The shooter has now been identified his name is Scott DeKraii:
Eight people were killed and one critically wounded Wednesday afternoon when a heavily armed gunman wearing body armor opened fire at the Salon Meritage in Seal Beach, police said.

Shortly after the shootings, a white male suspect — who had weapons strewn across the floorboard of his white truck and guns strapped to his body — was arrested without incident half a mile from the scene, police and witnesses said.
As expected, this was a custody dispute:
Police said the motive was under investigation, but McGhee said the alleged gunman had recently lost a divorce custody battle with a salon employee named Michelle.

Nagle said the alleged shooter had warned his estranged wife he would do something like this. Nagle described him as ex-military and unstable.
The OC Register has put together a video including images of the suspect:
Scott and his wife Michelle are both quoted in this 1997 article from the LA Times.
[End updates]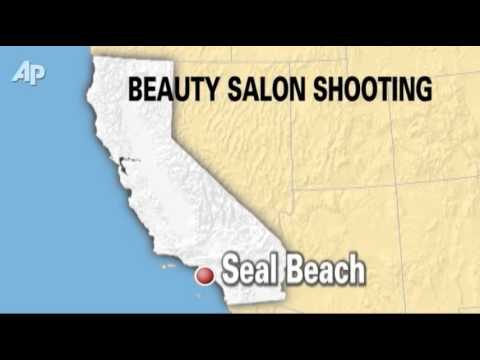 From the AP:
Six people were killed and three were wounded Wednesday in a shooting at a hair salon in a normally sedate Southern California beach community, authorities said.

The six deaths were confirmed and the other three victims were taken to a hospital in critical condition, police Sgt. Steve Bowles told KCAL-TV.

Police arrested a man in a traffic stop a half-mile from the shooting scene and he was taken into custody, Bowles said. He added that multiple weapons were seized.

The motive was not immediately known.
This is 5 minutes from my house. It's a tiny beach town most people would drive past on PCH without noticing. Very charming place with a well loved indie movie theater and a charming main street. Not a place known for crime of violence. I doubt anything this awful has ever happened there in its history.
Update: I just heard an update on a local radio station saying two more people have died. If that's accurate that would bring the death toll to eight. The OC Register says this is the deadliest shooting in Orange County History:
A woman from Anaheim named Cindy, who declined to give her last name saying she was too shaken by the tragedy, said she was in a salon chair getting her hair colored by a male stylist when the gunman entered the salon.

She said the shooter approached a female stylist nearby and began firing a gun. At first, Cindy said, she thought it was a "Halloween prank."

Then the gunman shot a female customer whose hair was being shampooed before turning and firing at Cindy's hair colorist.

"I just kept hearing boom, boom, boom, boom," Cindy said. "I ran out. I didn't see his face. I just saw the gun in his hand and him shoot anybody."
The belief is that the shooter was an ex-husband or boyfriend of the first victim.
Category: Uncategorized |