John on October 12, 2011 at 9:31 am
Last night Zombie posted a video clip shot by someone named Ringo of the Occupy LA protests. This clip is actually about two weeks old now, but still worth noting: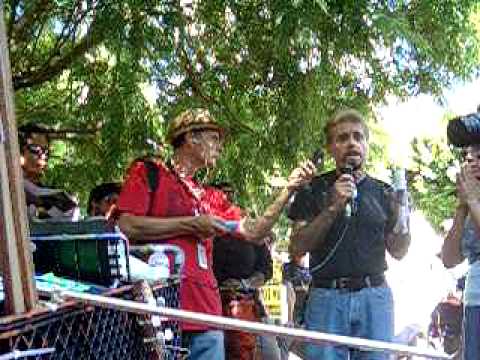 My first thought on hearing this was, this guy can't be representative of the people who were there. But then I followed the link back to Ringo's site and looked through the dozens of photos he's taken. I'm not suggesting that most of the protesters are actively calling for blood, but many of them are calling for revolution and an end to capitalism. After documenting the anti-capitalist tone of the event, Ringo comes across the "demands committee":
Around park small meetings, or councils, were being held. I approached one called "Demands Committee" where a group of people were sitting around discussing what the demands of the protest would be. I immediately recognized most of the participants as leaders of various Communist, and other extreme Left organizations which I've photographed at other leftwing demonstrations over the years.

[He inserts a photo]

The big fellow with the goatee sitting on the wall in the above photo is an organizer for the PLP wing of the Revolutionary Communist Party. You can see a picture I took of him here leading a band of red flag waving communist youths in a May Day parade in Los Angeles. And the guy below him with the green glasses and black shirt is an organizer for International ANSWER, which is branch or the Workers World Party. Let's have a closer look at that tattoo on his arm.

…everyone on the "Demands Committee" I recognized as a member of some Marxist group or another.
It's amazing to me that these people are still around. Their views are so discredited and are responsible for so much human carnage…they might as well be supporting the return of national socialism. The fact that they seem to be latching onto to positions of influence in these protests is worrisome for just that reason. Communist revolutions don't stay peaceful for long.
Category: Uncategorized |