John on October 23, 2008 at 8:25 am
Bill Ayers bestest pal Mike Klonsky responds to my earlier post about the CAC and SSW sharing an address:
Wow! These anti-terrorist sleuth/bloggers are really good. How they solved the puzzle, you see, is that they went on our website and found the old address (115 S. Sangamon St.) of the Small Schools Workshop from back in the days when we were housed over at UIC (the University of Illinois at Chicago), in a mostly vacant building that was falling apart and was later condemned. So we all had to move. Then they dug even deeper into the public files of the Chicago Annenberg Challenge (CAC) and found, lo and behold, that their address during that year, was also—you guessed it—115 S. Sangamon St. (evidence is shown above).

Whoop, there it is. Case closed. The commie, terrorist conspiracy from hell uncovered at last.

Except for two minor points, of course. One: Bill Ayers never worked in the Sangamon St. building. His office was in the Education Building at UIC, a mile away on the other side of the campus. Oh yes, and Barack Obama also never worked nor had an office at the Sangamon St. building, and as far as I know, never even once set foot in the building. While he was a board member of CAC and even president of the board for a time, the Sangamon St. office of CAC was for staff members. Obama wasn't one and didn't ever have a role in directing CAC funding.
Before I get into the specifics here, let's just do a little refresher course on Mike Klonsky. Klonsky is a former SDS member who has been friends with Ayers and his wife Bernadine Dohrn since their bomb-making days. Klonsky actually split off from the SDS sometime around 1970 and formed the October Party which then became the Communist Party (Marxist-Leninist). Klonsky's Communism was so sincere that…well, here's how the LA Times described it in 1977:
Secretary of State Cyrus R. Vance got a good reception in Peking last month, but nothing like the red carpet treatment received by that representative of the American people Michael Klonsky.

Michael who?

It was a question asked by more than one American reader of the New China News Agency when the official Chinese wire service reported Chairman Hua Kuo-Feng's July 20 meeting with Klonsky, who got what still stands as the warmest reception ever given an American by the new Chinese leader.
Again, the irony of being called "McCarthyite" by a genuine communist is priceless. What's more amazing is that between Ayers and Klonsky, one might have to describe Klonsky as "the level-headed one." Check out this video and listen to the plans Bill Ayers had for Americans who didn't get with his program.
Obama's campaign responds, essentially, by claiming that was then and this is now.
Actually, Klonsky, like Ayers, doesn't seem to have changed all that much. In 2006, he became a founding board member of the relaunched SDS (now MDS) along with Ayers' wife Bernadine Dohrn and notable America basher Noam Chomsky. Check the MDS website here. Scroll down a bit for a picture of Bill Ayers doing a "teach-in" dressed in a Cuban baseball Jersey. Birds of a feather still flocking together.
And as Communists are wont to do, Klonsky seems to be rewriting recent history to suit present needs.
Bill Ayers never worked in the Sangamon St. building. His office was in the Education Building at UIC, a mile away on the other side of the campus.
I noted in the comments of my original post five days ago that Ayers had another office on campus. But the idea that he "never" worked in the SSW office is surely a lie. Ayers founded the group with Klonsky. He and Klonsky received millions of dollars from various foundations in that office (including from the CAC). And Ayers was never there? Never took a hand in anything that went on there?
What's more likely? That Bill Ayers never visited the offices of his own school reform group? Or that Mike Klonsky, Ayers' lifelong friend and current Obama supporter, has decided to remove Trotsky from the picture, so to speak.
If you don't think Obama would do such a thing, let me just point out a few examples:
Here's an actual disappearing photo. Two of Obama's spokesmen said this didn't exist (on television), but, viola, there it is.
Obama's website had language trashing the surge for over a year, then suddenly this summer all criticism vanished.
An issue of the Journal Social Policy which connected Obama to Acorn had been available on a pay basis, but shortly after it was highlighted by Stanley Kurtz, that issue disappeared.
How about Obama's claim on his Fight the Smears website that he never, ever worked for Acorn? Yeah, that one vanished too, to be replaced by a rephrased statement saying he'd never "been hired", i.e. he volunteered.
How about the website that provided a first hand account of Obama's political coming out at Ayers' house. That one just disappeared over the weekend.
Ken Rolling tried to make the entire CAC archives disappear on Obama's behalf.
And let's not forget the website belonging to Obama's possible paramour, the one who went from working as his Finance Director in '04 to being  suddenly shuffled off to the Caribbean. Her site vanished within hours of the story coming out.
Are you seeing a pattern here? Let's just say I don't trust Obama or his people, especially when it comes to talking about Bill Ayers.
Oh yes, and Barack Obama also never worked nor had an office at the Sangamon St. building, and as far as I know, never even once set foot in the building. While he was a board member of CAC and even president of the board for a time, the Sangamon St. office of CAC was for staff members. Obama wasn't one and didn't ever have a role in directing CAC funding.
Let's start with the last claim first because it's the most obvious lie. Obama was Chairman of the Board in 1995. Here's how the CAC's own report described the Board's responsibilities:
A Board of Directors composed of foundation and business executives was responsible for fiscal operations, developing a procedure for securing matching funds and making grants, and hiring an executive director.
Page two of this CAC document from 1996 gives an even clearer picture of the Board's responsibilities:
The Chicago Annenberg Challenge Board of Directors represents community, civic, philanthropic and business leadership in Chicago. The Board employs an Executive Director, sets policy, raises matching funds, certifies public funds and private grants that qualify as a match. and approves all grants.
Not only approved but even recommended on occasion (page 16):
From the 177 letters of intent received, the Collaborative [led by Ayers] unanimously identified 76, and the Board added another 13 that would receive an invitation to submit a full proposal.
So, the idea that Obama "didn't ever have a role in directing CAC funding" is just a lie. In fact, not to put too fine a point on it, but Mike Klonsky's very next blog post contains this line:
Not that there weren't lots of problems with the CAC's initiative. The biggest one was its board's inability or unwillingness to let one penny of its funds fall into Vallas' hands. They were repelled by Vallas' top-down approach to reform.
So the board was "repelled" by this guy Vallas and refused to let money "fall into his hands." Wow, that sounds a lot like the grant making power described in CAC documents. But just one post earlier Klonsky was denying the Chairman of the board had any such power. Hmm…what might this tell us about Klonsky's honesty?
The bottom line is that Obama probably didn't have as much say in directing the money as did Bill Ayers that first year, but as Chairman of the Board he was involved in reading and approving every single grant that went out. As for the part about Obama never setting foot in the building, here's the very early history from the CAC itself:
The University of Illinois at Chicago (UIC) offered free office space to house a part-time, temporary administrator who handled scheduling of the summer 1995 informational briefings and mailing of RFPs throughout the city. The UIC offered space for setting up a permanent office for CAC as well .

The new CAC board of directors held monthly meetings from March through August 1995 to organize the Challenge, hire an executive director, and begin the RFP process developed by the Collaborative. A director was hired at their July 1995 board meeting to begin September 1, 1995.
Note that I haven't slapped these two paragraphs together. This is how they appear in the document. What space was granted the CAC rent free by the University? 115 S. Sangamon St. 3rd Flr right next to Small Schools Workshop.
As for Ayers and Obama encountering one another, Stanley Kurtz notes:
During this initial year of 1995, Ayers also sat as an ex officio member of the board. The Obama campaign is trying to minimize his cooperation with Ayers by counting the number of board meetings where both sat together. That will not do. For one thing, as long as we're counting occasions on which Obama and Ayers were together, the Obama campaign omits Obama's appearances before the Collaborative, when it was co-chaired by Ayers. In 1995, Obama and Ayers also sat together on the board's Governance Committee, with at least one independently scheduled meeting, and who knows how many others. Ayers and Obama were also part of a group of four instructed to draft the bylaws that would govern CAC. Surely that endeavor would have involved significant interaction between them. Then there's the question of unrecorded meetings of both the board and the Collaborative. For example, the archives contain an intriguing note indicating that, although a CAC board meeting took place on July 25, 1995, "No minutes were recorded." Were Ayers and Obama both present at that meeting? More important, what took place there?
Many of the official board meetings in '96 seem to have taken place at other locations, but in the first year when the office was being set up, when the CAC had only one staff member, it's very probably Obama set foot in that building where mail was coming in for him and letters were going out with his signature.
As we've already seen in the case of Stanley Kurtz, Rolling is still actively engaged in covering up the Obama-Ayers connection by interfering with access to its records. Would Bill Ayers' pal Mike Klonsky do any less?
Klonsky knows where all the bodies are buried. But if he ever decided to tell the real story, it wouldn't sound like this absurd denial of any contact between the Chairman of the CAC Board and the staff he was responsible for hiring. Nor would it sound like the equally daft suggestion that the founder of the Small Schools Workshop completely avoided its office for a period of years, even as millions of dollars were rolling in from his efforts to promote the group. It's just not believable.
I think Klonsky knows or has been told that this is one time he needs to stick to the party line. And, hey, that's what communists are good at.
Update: After much hard work, Morgen got this video of Klonsky and Dohrn from the SDS days uploaded to YouTube: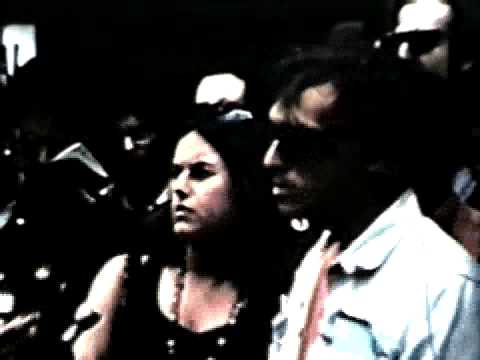 Here's a related piece on Klonsky by Andrew McCarthy at NRO.
Category: News |