John on June 23, 2011 at 9:23 am
As you may be aware, there is a new film coming out soon which details Sarah Palin's rise in Alaska and her eventual inclusion on the 2008 GOP ticket. It's called The Undefeated and last Friday I had a chance to see a rough cut of the film at Right Online in Minneapolis.
I'll offer a review of sorts later today or tomorrow, though as you'll hear from my questions I was impressed. In the meantime, here's my somewhat truncated interview with the film's writer and director, Steve Bannon. I had more questions for him (lots more) but was trumped by my friend Ed Morrissey who had Mr. Bannon scheduled for a radio interview across the hall: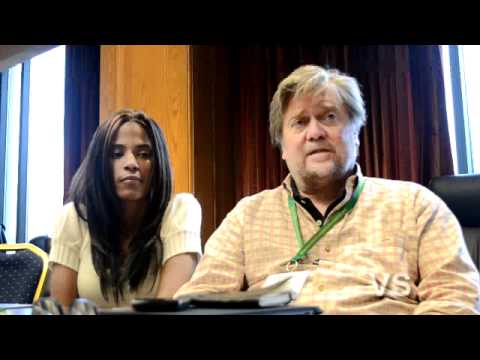 I should add that the woman in the shot with Steve is Sonny Johnson. Sonny appears in the film to talk about Palin. She also has her own inspiring story to tell. I interviewed Sonny separately and will be posting that interview tomorrow.
Category: Uncategorized |