John on June 7, 2011 at 2:44 pm
Here's the clip of the President's weekly "radio" address. He's talking about the auto-bailout for reasons that escape me completely: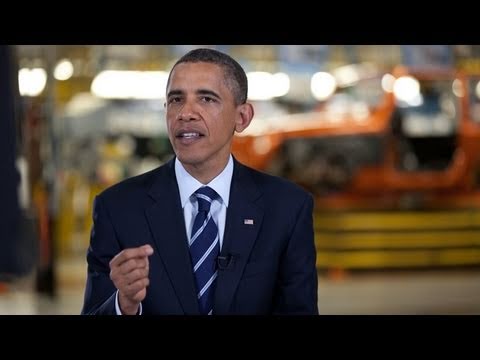 Here's the Post's analysis of his statement:
Let's look at the claims in the order in which the president said them.

"Chrysler has repaid every dime and more of what it owes American taxpayers for their support during my presidency — and it repaid that money six years ahead of schedule.  And this week, we reached a deal to sell our remaining stake. That means soon, Chrysler will be 100 percent in private hands."

Wow, "every dime and more" sounds like such a bargain. Not only did Chrysler pay back the loan, with interest — but the company paid back even more than they owed. Isn't America great or what?

Not so fast. The president snuck in the weasel words "during my presidency" in his statement. What does that mean?

According to the White House, Obama is counting only the $8.5 billion loan that he made to Chrysler, not the $4 billion that President George W. Bush extended in his last month in office. However, Obama was not a disinterested observer at the time. According to The Washington Post article on the Bush loan, the incoming president called Bush's action a "necessary step .?.?. to help avoid a collapse of our auto industry that would have had devastating consequences for our economy and our workers."

Under the administration's math, the U.S. government will receive $11.2 billion back from Chrysler, far more than the $8.5 billion Obama extended.

Through this sleight-of-hand accounting, the White House can conveniently ignore Bush's loan, but even the Treasury Department admits that U.S. taxpayers will not recoup about $1.3 billion of the entire $12.5 billion investment when all is said and done.
More:
"GM plans to hire back all of the workers they had to lay off during the recession."

This is another impressive-sounding but misleading figure. In the five years since 2006, General Motors announced that it would reduce its workforce by nearly 68,000 hourly and salary workers, creating a much smaller company. Those are the figures that generated the headlines.

Obama is only talking about a sliver of workers — the 9,600 workers who were laid off in the fourth quarter of 2008. About 4,100 were sent home for a few weeks. Another 5,500 were put on indefinite leave, meaning there were no jobs at the time for them. All but 1,000 have returned to work, and the rest should be back at work by year's end, according to GM spokesman Greg A. Martin.
There's one more which the Post rightly labels a straw man. Obama has frequently used his claim that "others wanted to do nothing" on many different topics.
It's pretty sad when the administration's idea of a win is a statement riddled with chicanery, misdirection and straw men. It sort of suggests this is all they've got.
Category: Politics |