John on February 23, 2011 at 7:00 am
The angle isn't great but the audio is relatively clear. Start at 1:30 in: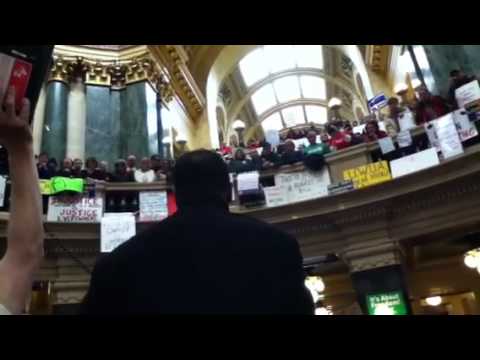 Just as Egypt was ground zero for a revolution for economic justice in the Middle East, Wisconsin is ground zero for economic justice across America.

This fight is not about deficits and budgets it is about worker's rights to collective bargaining.

It seems the governor does not want your pocketbooks, he wants your head. We will not give our head. We will fight until victory is assured.
A better angle on the same speech (but the audio isn't quite as good):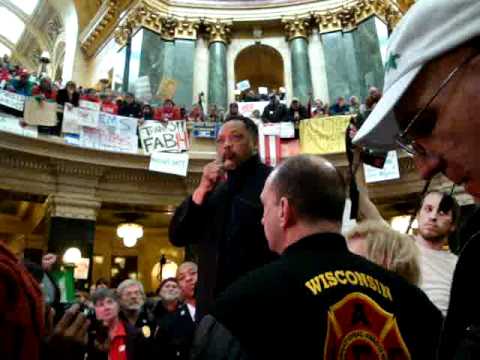 Yeah, sure it's just a political metaphor, but so was "Don't retreat, reload." The left doesn't get to have this both ways. Either violent metaphors are off limits or they're not. As usual, it's useful to imagine the reaction if a well known conservative (Ann Coulter or even Glenn Beck) said these same words at a rally directed against the President. There would be gnashing of teeth about violent language and hate speech.
But since it's the left doing this, it wasn't reported anywhere. There are large cameras and boom mics on hand and yet the video seems to have sunk down the memory hole except for a few cell phone uploads to You Tube.
Add this to the litany of offensive signs that have appeared at these rallies. The new tone doesn't seem to be reaching to Madison, Wisconsin at all. Even MSNBC recognizes left-wing media bias this blatant.
Category: Politics |