John on January 8, 2011 at 12:05 pm
There was initially word that the Congresswoman had died, but a hospital spokesperson later said she was in surgery:
As many as 10 people were shot when an assailant sprayed bullets into an area in her Arizona district where the Democratic lawmaker was hosting a "Congress on Your Corner" event at a Safeway supermarket.

A law enforcement source told CBS News that a suspect is in custody.
The NY Times is already casting about for explanations:
Last March, her Tucson office was vandalized a few hours after the House vote overhauling the nation's health care system, the authorities said. Earlier events in Tucson, Oro Valley, Green Valley, Sierra Vista, and Douglas had attracted between 75 and 150 people, according to a statement announcing the event. This was her first event since her re-election to a third term in November.

Ms. Giffords, 40, was interviewed on Fox news on Friday to talk about a bill to cut to congressional salaries by 5 percent.
They're not coming right out and calling this Tea Party violence…yet. But the mention of her recent Fox appearance seems a bit random in this context. Here's the clip. Note that Giffords is proposing the 5% cut, not resisting it. In other words, she appeared on Fox to discuss what could be considered a conservative policy proposal and then went on to talk about the need to cut debt and deficits. This is no Ted Kennedy Democrat:
That "We will talk again" ending is pretty chilling right now.
Not surprisingly, MSNBC is already bringing someone on to blame talk radio and TV:
Here's raw video of the scene immediately after the shootings: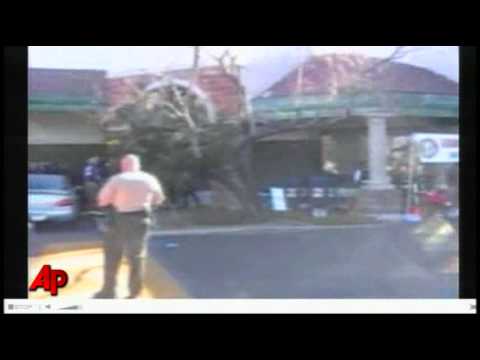 Category: Uncategorized |