John on November 8, 2010 at 8:27 am
Today Johnny Dollar has up a post and video that is simply a must read/see. The first part of it deals with Dana Milbank's dishonesty which I posted on here. The second part is the most complete refutation of Rachel Maddow's attack on Fox that one could possibly imagine. Here's a sample:
We hear a lot about Rachel Maddow, the great 'journalist', the Rhodes scholar. But she doesn't know when hosts on her own channel are raising money for the Democratic party? The reason is simple: Maddow didn't do any research. Her idea of journalism is to lift her facts straight from Media Matters, a partisan, agenda-driven website. Since Media Matters didn't tell her about Schultz's fundraising, Rip 'n' Read Rachel didn't know about it.
But Johnny's just getting started. His post ends with a video which demonstrates beyond doubt two things 1) Rachel Maddow has no idea what she's talking about most of the time and 2) Media Matters can't be relied upon. They always and everywhere present one side of the story. If you're on the left and rely on their work (as both Milbank and Maddow do) you will eventually end up looking like a fool. And wow, does Maddow have some splainin' to do after this video. I don't see how even she can let this go without correction, it's too egregious. So thanks, Media Matters, for making Rachel look like a fool. It has been a great week for MSNBC hosts.
Click over to read his whole post and make sure to watch the video he has put together at the end. I'll embed it later in the day, but for now work this good deserves not to be stolen.
Update: Okay the day is over and I'm sure Johnny got zillions of well-deserved hits out of this. Now I'm going to go ahead and post it: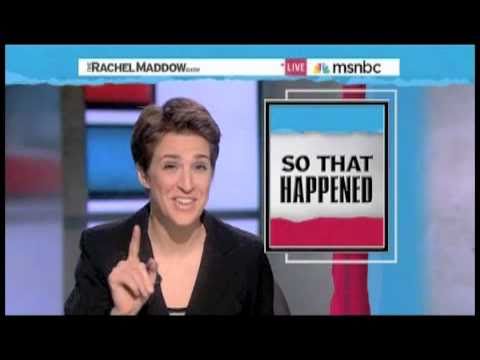 Category: MSM & Bias |