Morgen on May 12, 2010 at 6:09 pm
As someone who has a little talent for digging up videos buried on the internet, I have to say that if Elena Kagan has not intentionally avoided expressing her opinion on camera on anything important in the last 10 years, then she is one of the oddest legal academic figures I've yet to run across. Kagan has been a veritable queen of moderators of legal symposiums and panels, presiding over discussions on many noteworthy topics, yet apparently never expressing a meaningful opinion of her own. As the former dean of Harvard Law perhaps her stance of neutrality is to be expected (and commended), but it still seems a little odd for a relatively prominent figure within the legal community to never have expressed a public opinion on virtually anything. (Which makes her public stance on the banning of military recruiters at Harvard all the more noteworthy.)
So my efforts have been mostly but not entirely in vain. It turns out that there is a video of Kagan expressing a strong opinion on a topic of some relevance to her Supreme Court nomination. In 2005, Harvard Law School hosted a "Celebration of Black Alumni" with one of the featured speakers, and award recipients, being none other than Senator Barack H. Obama. It would appear Ms. Kagan was more than a little fond of the future President: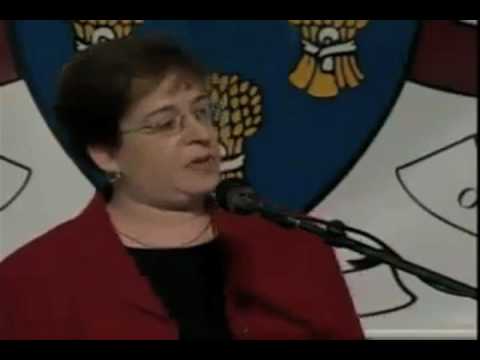 (Full version available here.)
Aww, there is nothing that warms the heart more than watching political elites fawning over each other, as they divide up the spoils of power amongst themselves. I can't get enough of this type of thing.
("Magnetism"? "Great looks"? Does this put the silly speculation over Kagan's sexual preferences to rest once and for all? Nah, I didn't think so either.)
Category: Politics |