John on April 27, 2010 at 10:17 am
On the day health care reform was passed in the house it was overshadowed by another story. Two black representatives claimed that Tea Partiers had hurled the N-word at them as they crossed the street to vote. This is obviously a despicable act if it happened.
Video soon turned up which showed no evidence of such language. Critics pointed out that the video in question was actually from later in the day when the same reps were returning to their offices. The incident, it was claimed, happened earlier.
Then video of the reps coming down the steps of the Cannon office building turned up. No N-word was heard on this clip either. Maybe another angle would reveal something? Well, Big Government has received a second clip from this same time period which also has no evidence of the N-word. Have a look: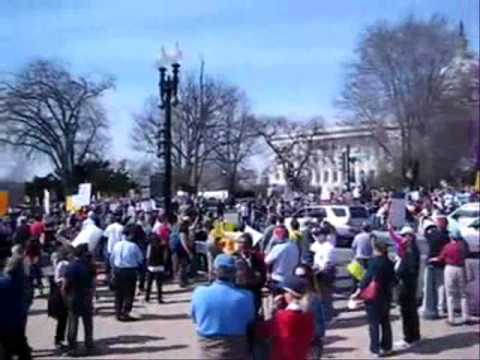 The press has completely lost interest now that the story is looking shaky. Breitbart had this comment:
The absence of a real investigation by a press that played up the accusations is a more-than-tacit admission that they were hoping the allegations were true. When I mentioned the lack of response to the $100k offer to Politico's Ben Smith, he messaged me on Twitter:  'I think you've pretty much won this one, no?'

But how does that "win" manifest itself? On April 15, the day of the Tax Day Tea Party in front of the White House, and being interviewed by ABC's Terry Moran for Nightline set to air Tuesday night, I passionately defended the movement against the powerful racism charge that has been greatly pushed by the Congressional Black Caucus's accusation of a 1960 Selma-like incident near the Capitol.

At least twice during the spirited questioning by Moran, bystanders screamed "racist" at me.

The power of the propaganda. The power of the repeated accusations. The power of the relentless race-based line of questioning. They are all adding up to the liars and slanderers getting exactly what they wanted. The Tea Party is marred by racism charges while Congressman Carson, at the least, should be facing an ethics investigation, and a civil rights legend should be asking for forgiveness for allowing for the hateful lie to stand.
One video from the other side of the street would settle this once and for all. If you were on the mall and taped it that day, you need to come forward. If you know someone that taped it, you need to call them and have them come forward. Either way, this needs to be settled once and for all.
Category: Politics |