John on September 24, 2007 at 3:14 pm
President Bollinger of Columbia did a surprisingly good job tearing into Ahmedinejad today. In fact I'd say he verbally pimp slapped that grinning little jerk. It was a refreshing surprise and a far cry from the fawning treatment 60 Minutes gave him earlier in the year. Here's his intro in case you missed it (you can safely skip the first 2 and a half minutes of self-serving justification):
Part 2:
But Ahmedinejad got applause as well as laughter.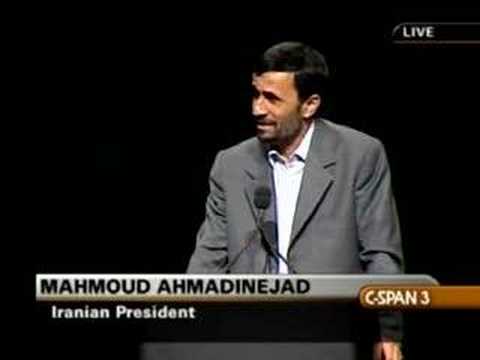 It's telling that the headline coming out of today is his statement on gays in Iran. It's highlighted at Time, on Drudge, etc. For all the discussion of Ahmedinejad's denial of the holocaust, threats against Israel, export of terror, killing of Americans in Iraq, and restriction of basic freedoms at home, the thing that actually makes him ridiculous is his statement on gay rights? Ahmedinejad's treatment of gays is completely inhuman and unacceptable, it's also possibly the least heinous of his crimes.
No doubt Ahmedinejad made an ass of himself today. Kudos to President Bollinger for facilitating that well deserved public humiliation. But I'm not sure Columbia's student body did him much credit. One thing I'm sure of…a man who has just been introduced as a terrorist and holocaust denier wouldn't be getting applause moments later at my alma mater. But he surely did at Columbia.
Update: Here's exactly the sort of thing I was referencing yesterday. This piece over at Huff Post makes Ahmedinejad's gay remark into the grand moment when his true nature is revealed to an unsuspecting world:
Professional colleagues with different perceptions of Ahmadinejad had come — most with open minds — to hear what he had to say. Lurking quietly was the possibility he might offer something that could divide old friends.

With one crazy statement, his credibility was gone. In an instant, we were together in a world of truth and reality. He was alone on stage…

In one unscripted moment, it became crystal clear that Ahmadinejad is either dangerously removed from reality or he is a lying despot who will tell the world anything he wants it to believe about his country.
Gay rights is the Nec Plus Ultra of morality. There is simply nothing more wrong than disputing gay rights. Holocaust denial, threats of genocide and murder of political enemies are really just a blip on the way to that final depravity known as homophobia.
Like I said, the people at Columbia — and their friends at Huff Post — are nuts.
Category: Foreign Affairs, Health & Education |