John on March 10, 2010 at 2:34 pm
Actually, I think this is more like a TurboProp Pack…but I'm not an engineer.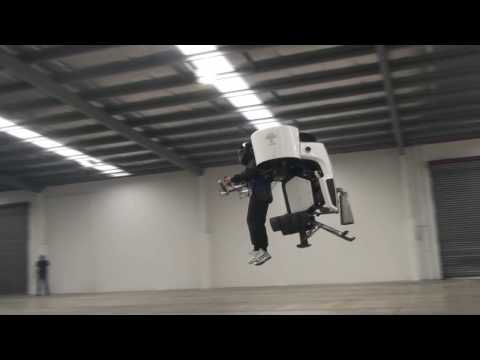 The Telegraph reports:
Glenn Martin, 50, has released details of the deal with an unnamed international aircraft company for the world's first commercial jetpack.

More than 500 Martin Jetpacks will be manufactured each year but there is already a waiting list of one year as commuters scramble to get their hands on one.

The machine costs just £42,000 but is expected to revolutionise the military and be taken up by emergency services worldwide.

It is driven by two 200 horsepower propellers and can travel at 60mph for up to 30 miles on a full tank of fuel.
This is way cooler than a flying car. And if the initial price is around $75K, you have to figure they could get this under $40K if they ramped up production by a factor of 10.  That starts to be the range where anyone with a nice car could choose this instead.
What does maintenance on something like this cost? And how high do you have to fly it to use the emergency chute should something go wrong?
Category: Science & Tech |