John on July 28, 2007 at 12:23 am
A little light Friday Saturday posting. I'll throw in some video in case you need a taste.
Okay, the first band I ever saw live was Styx. My dad bought tickets for my 10th birthday (it must have been because the Grand Illusion album came out in '77). The show was at Merriwether Post Pavillion (the first of several there) and, if I recall, we sat in the 7th row.
It was incredibly loud. I still remember my dad telling me the next day that residents from miles around had called and complained about the noise. Merriwether Post Pavillion promised never to crank it up so loud again. Anyway, Grand Illusion tour, Styx was in there prime. It was fantastic. I've seen them three other times. Once when Mr. Roboto came out. Once on a reunion tour with Kansas as the opener and once since Dennis left the band.
Okay, I'll move along quicker now. I'm a Rush fan. I've seen them twice. Once on the Grace Under Pressure tour and once about four years ago. They sound as good today as ever. I still listen to Moving Pictures and Signals regularly. And, yeah, I know they're all atheists and Randians. What can I say, great is great.
In the 80s I simultaneously went through a metal phase and a new wave phase. I saw The Cure at Merriwether Post. Good show but I had terrible lawn seats.
The Tubes were terrific and I had 2nd row seats. For some reason the lead guitarist looked completely pissed to be playing for about 10K fans. Really, he was scowling and clearly irritated the entire show. Only Fee Waybill's great stage presence kept it from ruining the show.
I saw The Scorpions on the Love at First Sting Tour. We couldn't understand what Klaus Meine was saying half the time, but what a great show. Blackout, Still Lovin' You, Rock You Like a Hurricane, Holiday…guitar rock done right.
I went to college at Va Tech in the late 80s. REM wasn't really a local band but, coming from GA, they felt sorta local. Saw them three times in college. Sort of tuned out around Monster, but I still love the first 4-5 records, especially Murmur. One of the shows had 10,000 Maniacs as an opener. Always liked them. In fact I took my wife to see them on one of their last tours as a band (in between Natalie's solo albums).
Sitting Still has always been one of my favorites: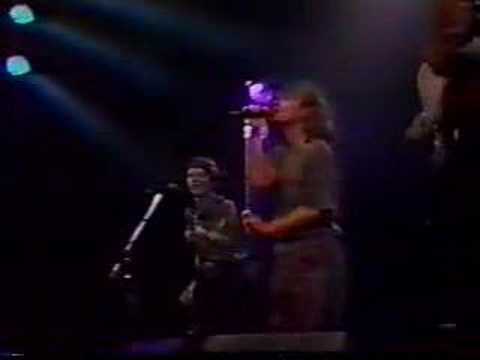 George Thoroughgood and the Destroyers toured a lot of colleges in the late 80′s. I saw them twice at Va Tech. The first time I was about ten rows back with my then girlfriend. Afterwards one of the guys in the band (bass player?) tried to talk her into the dressing room. I think that probably explains why they toured colleges so much.
Joe Satriani is the most amazing guitarist I've ever seen in action. I had second row seats. The guy plays most of his solos with his eyes closed. Still love the Surfing with the Alien album.
Hoodoo Gurus, Ocean Blue, Psychedelic Furs, Lush – saw them all in smallish clubs. Anyone remember the Hoodoo Gurus? They were cheesy but fun. Still touring I think.
The Cranberries were my favorite band of the early '90s. Got to see them at a 10K seat venue with some decent floor seats. What a voice!
Alan Parsons Project is one of my guilty pleasures. Parsons is the recording engineer famous for his work on Pink Floyd's Dark Side of the Moon. His own music alternated between pretentious and cloying, but in the middle there was some great music. They toured in the mid 90′s, something they've done very few times as they are basically a studio creation. It was an outstanding performance. I'd see them again if they ever came around.
I saw U2 on the ZooTV tour at RFK stadium. What an amazing show. Saw them twice on the ATYCLB tour at two different venues. The second time I had great seats 2 rows above the floor. Probably the best church service I've ever attended. Saw them on the most recent tour as well.
The Rolling Stones have had more "final tours" than any band on earth. They're like one of those furniture stores with "Everything Must Go!" in the window. It was fun to see them, even though it was a stadium show.
Journey, REO Speedwagon did one of those weird tours with Styx where everyone is a headliner but some of the key band members are MIA. I always wanted to see Journey but it just isn't the same without Steve Perry. Neil Schon, however, is better than ever. His version of the star spangled banner would have brought a salute from Hendrix himself.
Midnight Oil is one of my favorite bands. They have 4-5 albums that I listen to on and off. Blue Sky Mining might be my favorite. Anyway, I got to see these guys at a tiny club that holds 1,000 about 4 years ago. Just outstanding.
I've been into Fountains of Wayne since I read about them on NRO. Saw them at the same 1,000 seat venue and they were really fun.
I took my wife to see Blue Oyster Cult on Valentine's Day. They were at a little dinner theater. We were 10 ft. from the stage. They were outstanding. During Reaper someone got up and ran around with a sign that read "I Need More Cowbell." The band didn't seem amused, but I've since read them joking about it.
Goat Punishment is a band pseudonym for Weezer. When Weezer wants to try some new material out in a small club, they play as Goat Punishment. Somehow I found out they were playing in this tiny club in LA called the Knitting Factory. I waited in line forever then stood the entire show. It was burning hot. I'm old now so I was getting tired. But when they wrapped the show with Hash Pipe and the entire audience started doing the pogo in unison, grunting along with Rivers on the…Uhh!…it was great, the kind of club scene Hollywood movies often try to get across and never really do.
That's spooky…I think this may be the show I saw. Note the GP in the background. I'm in that crowd somewhere getting pushed around like everyone else but having a great time: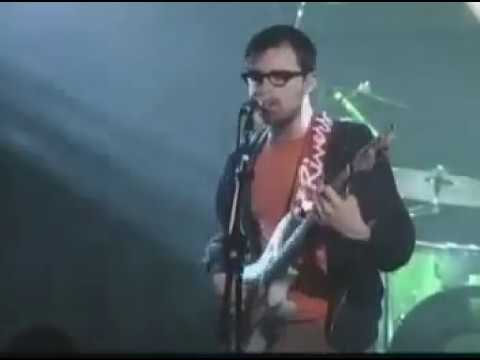 I picked up my first Coldplay album the moment I heard a bit of God Put a Smile on Your Face in an episode of Alias. They came to the Hollywood Bowl and I couldn't find anyone to go with me. So I went alone. It was one of the best shows I've ever seen. Seen them twice more since. The next time everyone I know wanted to go.
Rick reminds me in the comments that I saw Boston at the Orange County Fair a few years ago. Of course it wasn't entirely the same. Tom Schultz big pipe organ wasn't working and it was incredibly loud sitting in front of the left speaker array. Still it was good to see them do the old songs. How sad that Brad Delp is gone.
Keane is my 2nd favorite piano band (after Coldplay). I saw them in Hollywood about a year ago on the Under the Iron Sea tour.
The Police is one of those bands you always regret not seeing. So this summer I bought tickets for myself and my wife. Even at Dodgers stadium it was a good time. They just played one great song after another.
I'm forgetting some… I'll add them as they come to me.
Category: Music |