Morgen on January 19, 2010 at 11:33 pm
It will undoubtably take at least a few days for the ramifications of Scott Brown's stunning victory in Massachusetts to be sorted out. But one thing is clear: the President has a choice to make on healthcare reform that will in all likelihood define his Presidency. Will he do as most liberal pundits are suggesting and seek to force a bill through, ignoring the clearly expressed will of the voters in Massachusetts, and regardless of the electoral consequences for his party later this year? Or will he consider the indisputable rejection of his agenda in one of the most liberal states in the nation and press the reset button on the entire legislative effort?
Unfortunately, early indications are that the President will choose the former, based on recent comments from senior White House staff and Democrat leaders in Congress. And let there be no mistake: even with Scott Brown in the Senate, the fate of healthcare reform is entirely in the Democrats' hands. Whether by passing the bill which cleared the Senate on Christmas Eve, using the budget reconciliation process, or some combination of the two, Democrats can still pass healthcare reform if they have the will and desire to do so.
But what a disastrous decision this would be. Imperiling not only any chance of near-term economic recovery, but also the fiscal stability of our nation for generations to come. For the sake of our country – and yes, even for the sake of his own legacy – let us hope President Obama chooses a different course.
With the State of the Union Address coming up next week, perhaps he should consider the words of the last President who tried and failed to achieve comprehensive healthcare reform. From President Clinton's State of the Union Address in January 1995, following the Republican takeover of Congress in the November elections: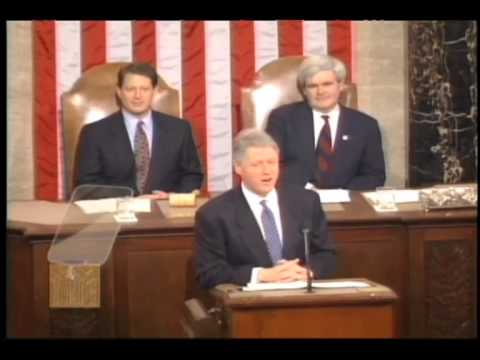 To be fair, it is slightly premature to draw a parallel between the events of 1994 and the present, when even the most optimistic prognosticators believe it is unlikely that Republicans will take back control of both houses of Congress later this year. But if a relatively unknown Republican can overwhelmingly win a seat held by Ted Kennedy for 46 years, is there a Democrat seat safe anywhere?
What is also apparent from Massachusetts, and national polling in general, is that independent voters – the middle of the electorate – are demanding more collaboration and compromise in Congress. They want an end to back room deal-making with special interest groups, broken campaign promises, and blatant pay-offs in order to buy votes.
They want the President to start over on healthcare reform.
Not that it will matter coming from me, but count me among those who sincerely hope the entirety of healthcare reform is not tabled indefinitely as an outcome of the events of this week. As much as proponents of reform have amplified or exaggerated the negative aspects of the current system, there are some insurance industry practices which need to be reformed. For example the recision of policies for people who are sick, and the refusal by insurance companies to accept patients with certain types of pre-existing conditions. And given the impact on the federal budget, the growth rate of healthcare costs must be addressed somehow or Medicare and Medicaid will bankrupt us within 20-30 years.
Rather than the command and control scheme pushed by the White House, there are existing market-based proposals which I believe would do a far better job reducing costs, while also expanding access. By using tax policy to begin de-linking health insurance from employment, and by providing consumers with more direct access to cost information, and a greater choice of health plans and providers.
The outlines of these plans already exist, and some of them have attracted bi-partisan support. The point is, we can start over without really starting over, and perhaps even enact legislation this year.
If the President were truly the type of leader he has claimed to be, this would be his choice. To put aside his pride and begin the process anew, centered around a bipartisan coalition of key members of congress. No doubt he would face staunch opposition. From those within his own party unwilling to consider more limited, market-based solutions. And yes, from many – if not most – Republicans who would have no interest in aiding his faltering Presidency.
Perhaps a better strategy for Republicans would be to wait until after the mid-term elections to advance their own healthcare reform agenda. But in our exuberance over the election result in Massachusetts, let us not forget that aspects of our healthcare system are in dire need of reform. We need to reset, not reject, the reform process.
Category: Health & Education, Politics |